Status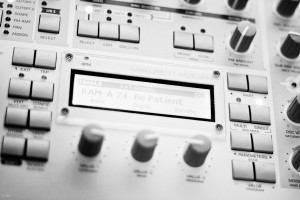 March, 2014 — It's been a long time since my last update here. Progress was slow last year as life & work kept me away from Goldfish for much of 2013, but I am happy to report that all tracks are now finished, polished, and ready to be recorded. This final stretch and the mastering will take a little bit more time, but we're getting there. (Making music is hard work.)
November, 2012 — Inspiration struck and convinced me to expand the number of tracks on Goldfish — which means more music, but also more work. To be realistic I have to push back the release by a few months, probably no sooner than mid-2013.
November, 2011 — Resuming work on my next release, tentatively titled Goldfish. Aiming for a mid-2012 release.
October, 2011 — Synesthesia is available at Kahvi.
July 4, 2011 — My new album, Synesthesia, is complete and will be released through kahvi.org this summer.
May 2011 — Currently working on release #7, on track for a spring/summer 2011 release.